I am very happy to announce the release of Punto Cowl & Hat patterns which are released as part of Malabrigo Quickies. From Malabrigo Yarns website: Quickies are small, fast projects which require only one or two skeins of yarn. You could knit a small cowl and a hat in one skein each of MC and CC yarn. These patterns can be bought individually or as an ebook.
While I love variegated yarns, I don't like how muddy they look when used with cables or lace. I am not a big fan of pooling in stockinette stitch either, so the obvious step was to pair it with a plain yarn and make something colorful with it. Punto stitch pattern (as I would like to call it) is knit with one yarn per row (no carrying the other yarn) and the colorful CC yarn shows up as little specks or dots against the MC yarn.
Punto Cowl comes in 3 sizes. Small: 20 inches wide, a snug fit around your neck, Medium: 28 inches wide, a loose, comfortable fit around your neck and Long: 44 inches wide, where the cowl can be worn doubled up. All sizes are 8 inches high. Width and height can be easily modified by working more repeats of the stitch pattern.
Punto Hat comes in 4 sizes. S [M, L, XL]: 18 [20, 22, 24] inches. These are the finished sizes. Choose the size which give you no ease or an inch of negative ease.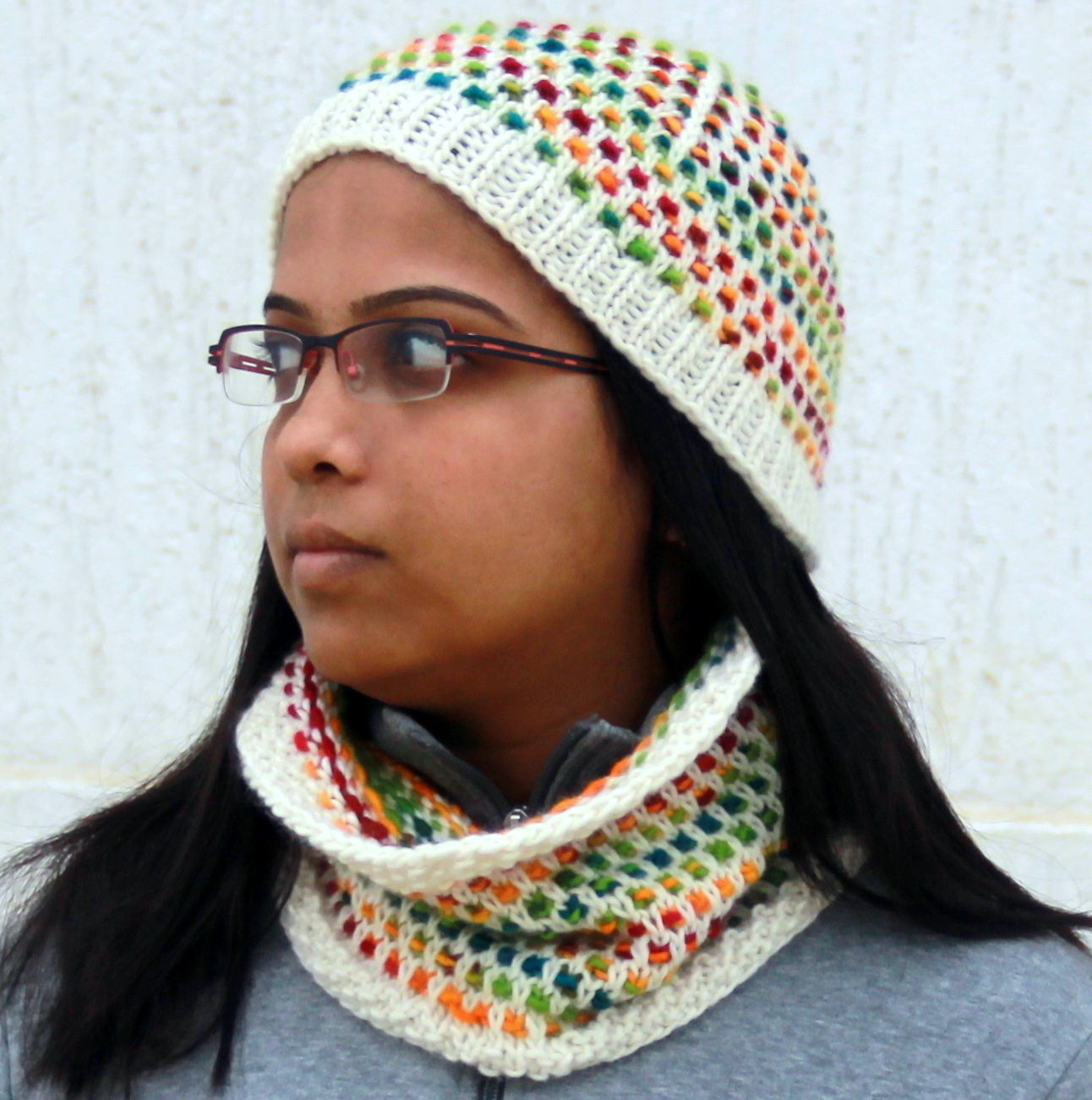 Punto ebook
Yarns Suggested: Malabrigo Merino Worsted in Natural Colorway
Malabrigo Seleccion Privada in Code B Colorway
Needle Size: US #6 4 mm