Around a year back, when I saw the Quilted Lattice Stitch in one of the Barbara Walker's Treasury books, I knew I had to use this for a girl's cardigan. I was in love with the collared-open-look cardigans and this stitch seemed to be perfect for that. I made my first sample using sports weight yarn and was mighty pleased with the result. I worked on grading and released the pattern to testers. While the testers testing the smaller sizes were very happy with the cardigan, the bigger sizes had a problem of the raglan edge puckering up. It was so bad for the biggest two sizes that I was completely disappointed with my designing (or lack of) skills. As I continued to knit from other designers' patterns and work on my own design skills, I realized what was the problem with the original Hira. I redid everything using fingering weight yarn, re-graded, got it re-tested and I present you Hira take two.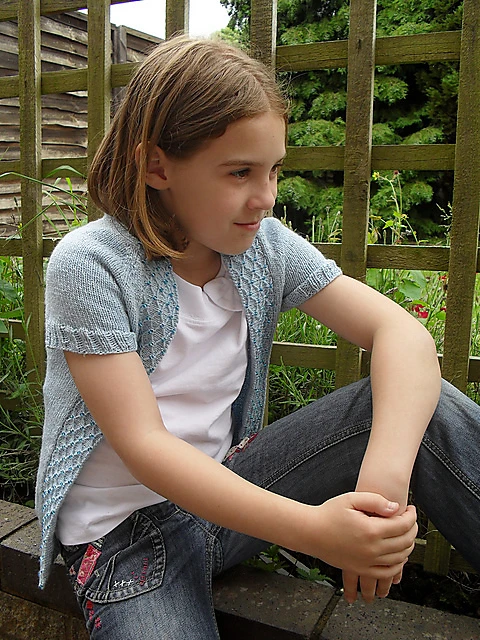 Ravelry Pattern: Hira by Anjali M.
Yarn Suggested: SweetGeorgia Merino Silk Fine
Sizes: Chest size 18″ – 32″

I used SweetGeorgia Merino Silk Fine in Pomegranate colorway. The different shades of pink and purple in this colorway are soft and subtle. These pictures do not do justice to the amazing colors, but I had to be satisfied with these. Felicia of SweetGeorgia yarns is so sweet (is it why the yarn name has 'sweet' in it?) and agreed to send me some yarn for the sample. The yarn is buttery soft, has lovely stitch definition and the silk content adds a shine and drape to this. Knitting with this yarn was a pleasure in itself. The stitches just glide over the needles like butter.
I made the non-beaded version, but one of my testers, Steph, made the beaded one and I love it. Her choice of yarn color and the beads work so well, do you agree?
I am so pleased with this cardigan that I am planning to make one for myself. Do you think this cardigan will work in adult sizes? Would you do any modification to make this work for bigger girls?