I had this gorgeous skein of Malabrigo Rastita in my stash in the beautiful colorway Archangel colorway. The beautiful hues kept calling my name every time I looked at them. I would pet the yarn and keep it back because finding a pattern for variegated yarn is quite difficult. I know slipped stitches help in breaking up the colors and help in avoiding pooling, so I picked up a simple yet beautiful stitch pattern and made a swatch.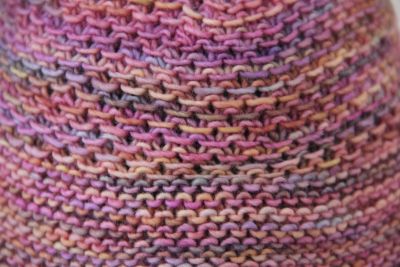 When that experiment went well, I made a hat with it and figured out a neat decrease which didn't disturb the stitch pattern and voila we have Madhu Hat. The slipped stitch pattern is called 'honeycomb', so I named the hat Madhu, which means honey.
This hat takes less than half a skein of sportsweight yarn and is particularly suitable for variegated yarn. It knits up in no time at all and it adds a bit of quirkiness to the classic beanie with its asymmetric 'flap'.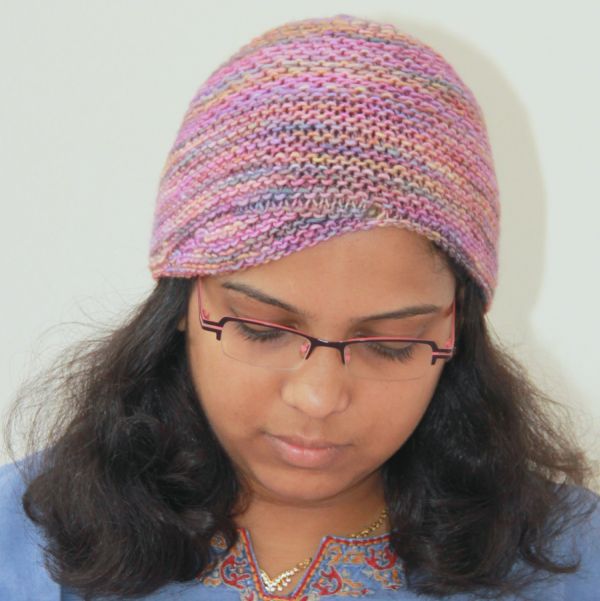 Pattern: Madhu Hat
Yarn: Malabrigo Rastita [Sport/5 ply]
Needles: US#5 3.75 needles, circular or DPNs
Sizes offered: S [M, L]: 22 [24, 26] inches, unstretched
Yardage: 150 [170, 200] yards

The hat is knit bottom-up with a provisional cast-on (casting on using waste yarn). After working the brim and shaping the crown, the hat is cast off. The provisional cast on is revealed to get live stitches around the brim and then the asymmetrical 'flap' is shaped with short rows. If you are not adventurous to try to short rows or do not like the asymmetric flap, then you can cast-on with the main yarn (as opposed to waste yarn). If you see a small hole at the place where you turn your work for short row shaping, this should cover up while blocking.
While this knitting pattern is suitable for variegated yarn, it looks great in semi/solid colored yarn too.