Remember the contest I hosted on my blog sometime back in which I asked suggestions for a name for a new pattern? The pattern is now christened Tee Cruise. That means Lori (Indulgence on Ravelry) from Things from Strings is our winner. Lori, thanks so much for your suggestion. It conveys everything I wanted to through this pattern. I have sent you the pattern as a Ravelry gift. Hope you enjoy knitting it!
I had a lot of wonderful suggestions and many names were shortlisted and Tee Cruise won by a small margin. Since I had so many great suggestions, I do not want to disappoint the others, so I will have a pattern giveaway soon.
The pattern's idea originated way back in March when summer was starting (in this part of the world). The pattern has come a long way from ideation to pattern proposal to getting yarn and making the prototype. In the end, I have a very satisfied feeling that the pattern turned out exactly like what I had in mind.
Special thanks to Nupur and Kashmira for helping me in getting the yarn. Thanks to this pattern, I met a wonderful crafter and now can call her my friend.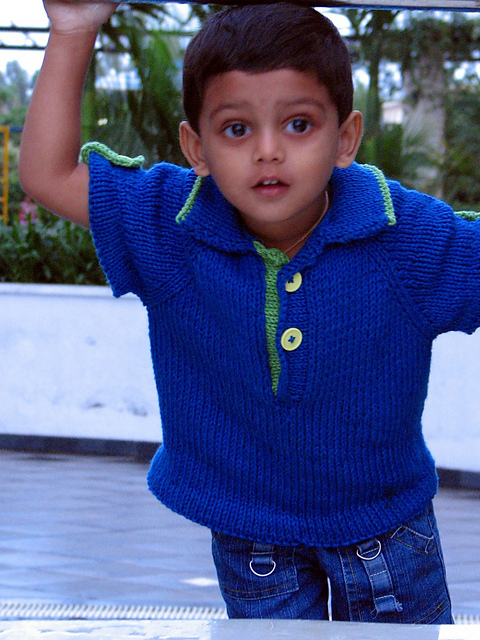 Ravelry Pattern: Tee Cruise by Anjali M.
Yarn Suggested: Knit Picks Simply Cotton Worsted
Needle Size: US #7 4.5 mm

Tee Cruise is a summer gift to encourage a child to go out and play, because don't you know, it's summer? This summer tee is perfect to play under the blue sky and roll over the green grass. The folded up sleeve bands and the contrast colored placket add the right amount of jazz to appear cool by the pool under the scorching sun.
The tee is knit from top down from the neckline and knit flat until the placket opening. The body is then joined in round. The collar and button bands are knitted later by picking up stitches. The sleeve bands are knitted by picking stitches from under the sleeve edge and the end is sewed on in place. It comes in a good range of sizes: 12 months, 2T, 4T, 6, 8, 10, 12. For more details, visit the Ravelry pattern page: Tee Cruise.
Keep watching this space because I will be back with a giveaway.