… with mango sauce and cream. That's what this blanket reminds me of.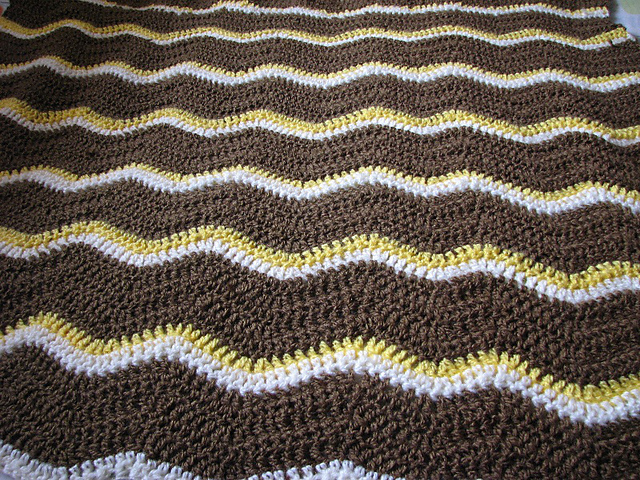 When my friend Anuradha broke the good news that she is expecting, I decided I will knit something for her baby. I was thinking of making a sweater and a hat – something small so that I can knit it in my busy schedule. To my surprise, Anu decided to take up knitting too. She started with a hat and made a cardigan and a vest. Now that she was making these stuff already and was a knitter herself, I couldn't possibly give her a teeny-weeny sweater, could I? I had to make something good enough for a knitter. That's how this blanket got created.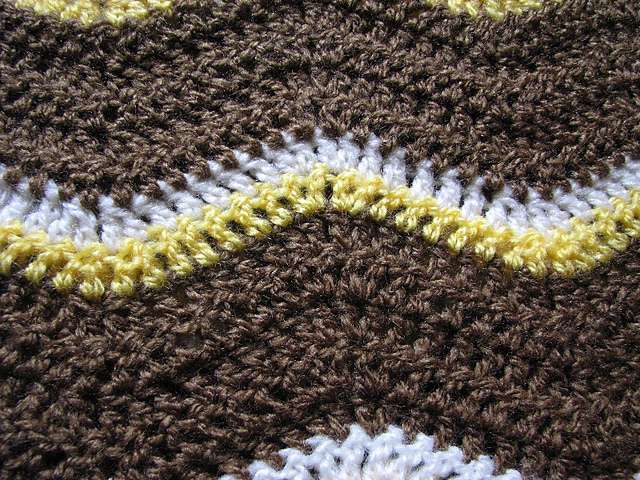 Crochet has been on my need-to-learn-this-skill-because-the-FOs-are-so-awesome list, but never got around to doing that. When I was finalizing a blanket pattern for Anu's blanket, I decided it had to be crochet. One, if I don't learn crocheting now, I probably never will and two, I have heard crocheting is way faster than knitting. I used the Neat Ripple Pattern by Lucy (or Attic24 as she is known in the crochet world) and loved it. She has detailed photos for crochet newbies like me. The photos were a big help!
After an initial swatch, I had enough confidence that I can finish this blanket. Next step was the choice of colors. I had bought this yarn from Pydal's for what would have been a vest for my hubby. I soon realized that this yarn is too flimsy and has no stitch definition, so the most natural choice was a baby blanket. I had lots of brown and just one skein of yellow and off-white. After a bit of calculation, I decided to do a row each of yellow and off-white for every five rows of brown. I knit until I ran out of the off-white yarn.
There are so many mistakes in there that I can't count. For starters, the edges are wavy and uneven. Expert crocheters tell me that the edges are meant to be wavy, so one less mistake to worry about. The starting rows are too tight, so the blanket is narrower at one end and wider at the other. Since it's a blanket, I hope it's ok and I hope the baby doesn't mind.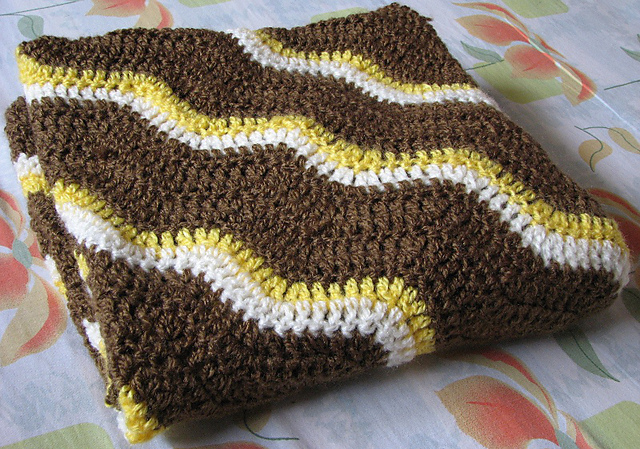 I worked on this blanket for an hour everyday for 3-4 weeks. It would have taken even lesser if I wasn't so new to crochet. So, it is true, crocheting is definitely faster. My next blanket is going to be a crochet blanket.  I have even bought yarn for it. Going off to look for patterns. Crochet ville, here I come!