The last couple of weeks have been crazy, to say the least. A dear one is fighting a medical problem and there is nothing the rest of us can do, but stand and watch. It sucks to be helpless, right? While this loved one is fighting for life, a cousin of mine is due to give birth to a whole new life. It is great news that she is still carrying the baby inside her at 38 weeks, considering she had a premature birth scare two months back. She has been going through a lot of bad times on the personal front and it was saddening to see her face yet another emotional issue. Thank the almighty, it turned out to be just a scare and things are fine now, but when I heard the news, my decision on the spur was to cast on for a baby blanket with a prayer weaved in every stitch for the baby.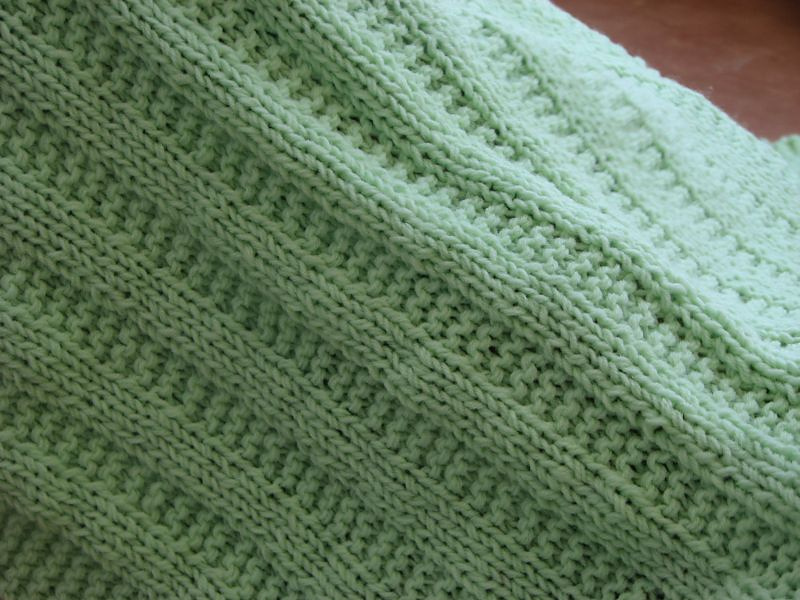 I wanted something mindless, so the focus is on the prayer rather than to keep track of what row I am on. Garter Rib Baby Blanket fit the bill perfectly. I wanted a bigger blanket than I usually make (so the baby can use it in its toddler years too) and hence cast on a larger number. A larger garter border was added to go with the larger blanket. Once the first few rows are done, then it is just one long, mindless knitting. The K3P3 ribbing could have gone faster if I knit continental style, but I was happy with the progress.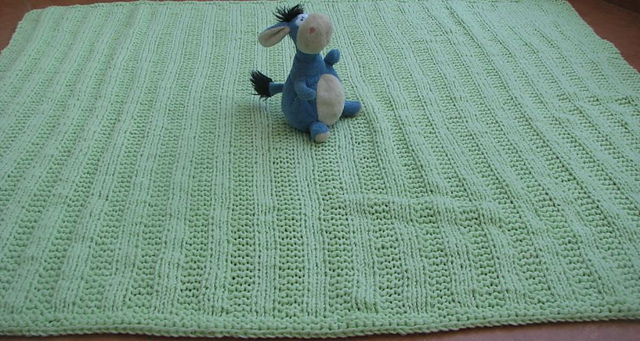 I used a new yarn this time. I was told by the Our Own Store guy it is Vardhaman, but our well trusted Rav knitters choose to differ. It is is acrylic, fingering weight for sure, so let's live with that. I used this yarn held double and with 4.5mm needles, it gives a nice, airy, drapey blanket which is light enough to wrap swathe the baby, but thick enough to keep it warm.
I tried steam blocking acrylic for the first time and I am amazed by the result. I used my Philips Steam Iron which has the ability to give out constant steam. Though it was a slow and tedious process to steam block a big, bad blanket with a measly steam iron, it was all worth it. The uneven stitches evened out, the blanket became drapier and softer. I am wondering why I never treated my previous FOs with a dose of steam.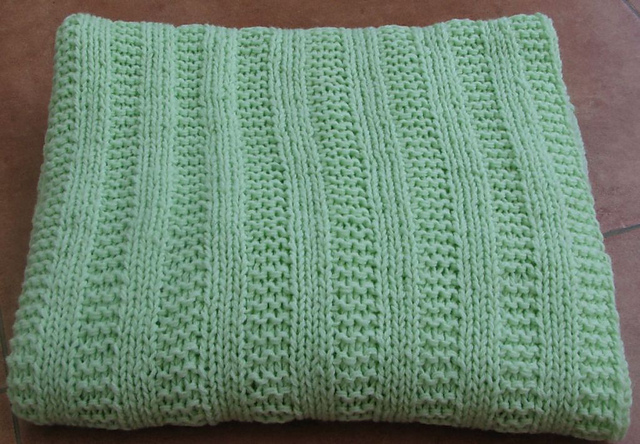 Ravelry Project Page
Pattern: Garter Rib Baby Blanket
Yarn: Acrylic, fingering weight, held double
Needles: US 7 4.5 mm